Todd Gray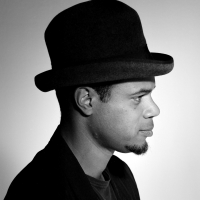 Bio courtesy of Meliksetian | Briggs, Los Angeles.
Todd Gray (b. 1954, Los Angeles, CA) works in photography, performance and sculpture. Gray's most recent photo works are comprised of photographs gathered from his own archive and recontextualized via their juxtaposition with one another and the use of antique frames as a structuring device. Gray's work is "fluent in cultural iconography, driven by introspection, and steeped in issues of corporate politics and racial identity" (from Amy M. Mooney, Black Is, Black Ain't curated by Hamza Walker ex. cat. The Renaissance Society, Chicago, 2013.)
Todd Gray received both his BFA and MFA from the California Institute of the Arts (CalArts). Recent solo and group exhibitions include the Luckman Gallery, Cal State University, Los Angeles, Studio Museum, Harlem, NY, USC Fisher Museum of Art, Los Angeles, California African American Museum, Los Angeles, Tucson Museum of Art, Detroit Museum of Art, Renaissance Society, University of Chicago among others. Performance works have been presented at institutions such as the Roy & Edna Disney Cal/Arts Theater, REDCAT, Los Angeles, Armory Center for the Arts, Pasadena, and the Japanese American National Museum, Los Angeles. He was the receipient of a Rockefeller Foundation Grant in 2016.
Gray was selected to be included in the third edition of the Hammer Museum's biennial Made in LA: a, the, though, only, curated by Aram Mosheyedi and Hamza Walker in June 2016, where he presented a performance work for the duration of the exhibition, outside the confines of the museum space. In 2017, Gray had a solo exhibition My Life in the Bush with MJ and Iggy at the Museum of the African Diaspora in San Francisco as well as a solo exhibition in Johannesburg, South Africa. Upcoming in 2018, Gray's work will be included in Public Fiction: the Conscientious Objector at the MAK Center for Art & Architecture in Los Angeles where he is directing a new durational performance delivered by professional actors, as well as in a major summer group exhibition at London's National Portrait Gallery.