Washington Post review of "Laid, Placed, and Arranged"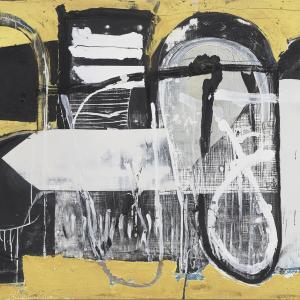 University of Maryland spotlights six former students
By Mark Jenkins
November 30, 2017
Something of an artistic class reunion, the University of Maryland Art Gallery's "Laid, Placed and Arranged" showcases recent work by six people who studied at the school between 1990 and 2010. The work is mostly mixed media, which suits the show's aesthetic: stark and reductive, yet abundant in its range of materials. The only participant who is chiefly a painter is Laurel Farrin, who contributes a sort of trompe-l'oeil abstraction with lengths of black and yellow that resemble pieces of tape. Most of the others use pigment in assemblages or primarily sculptural pieces. Among these are Francie Hester's compositions on acrylic discs and aluminum bars — soft patterns on hard surfaces — and Hiroyuki Hamada's mysterious, coffinlike forms, made of painted resin.
Ellington Robinson and Wilfredo Valladares like to play with fire. Jumbled scraps of burned paper provide the backdrop for a Robinson combine that includes several punching bags. Both of Valladares's aggregations include carefully charred rolling pins, alongside other intentionally damaged relics of domestic tasks.
The cleanest lines are courtesy of Meg Mitchell, whose "Fern Stations" place small plants between sets of large wooden speakers that broadcast drones, ringing tones and birdlike tweets. The natural world might be the inspiration, but it sounds far away. That's characteristic of these artists, whose methods usually involve not observation, but manipulation and even destruction.