Washington Post review of "Wynn Bullock: Revelations"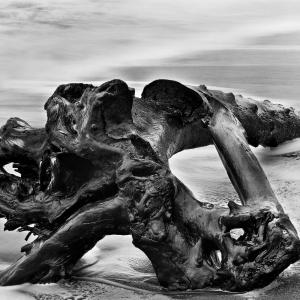 Finding the unknown within what is known
By Mark Jenkins
March 31, 2017
There's a vivid surprise, if not quite a revelation, at the rear of the University of Maryland Art Gallery. The best way to approach it is slowly, via a careful inspection of the photographs in "Wynn Bullock: Revelations." Bullock (1902-1975) was a California-bred singer who performed in Europe in the 1920s. While there, he encountered avant-garde art, notably Man Ray's abstract photos. Bullock pursued photography as a hobby at first but went pro in the 1940s, doing commercial work while experimenting on the side. The earliest pieces in this selection are from 1939-1941, and they include examples of solarization, in which the image appears scorched by light. Subsequent work is more representational, although not documentary. Bullock made moody landscapes, sometimes punctuated by a nude body, and views of damaged things and overgrown places. A few of these peer through windows or doors, stressing the camera's limited viewpoint.
All of these photos are black and white, usually with rich middle tones. But in the early 1960s, Bullock began his "Color Light Abstraction" series, yielding free-form compositions as bold and sweeping as the abstract canvases painted in the same era. Technically, the Kodachrome slides were ahead of their time, and the artist soon returned to monochromatic work. Only recently have digital scanners enabled these stunning photos to be reproduced properly and become better known.
Bullock wrote that he sought to "evoke a sense of the unknown through the known, the invisible through the visible." The photographer surely accomplished this in tangles of gray-and-black swirls such as "Tree Trunk." Yet his wildest forays into the unknown boast volcanic reds, incendiary yellows and intergalactic greens.