Across the Pane: The Art of Djuna Barnes
January 30

to

April 3, 2020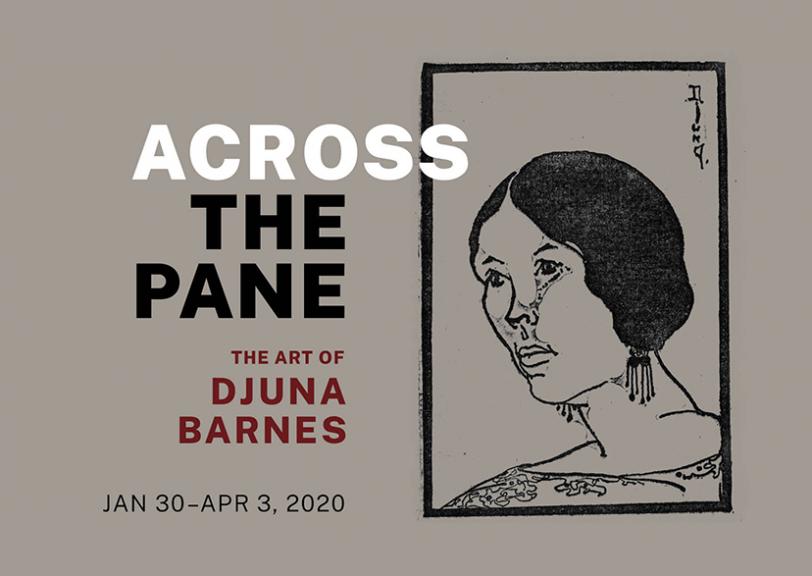 CORONAVIRUS INFO, PLEASE READ
UMD will have reduced operations the week of Mar 23, and will be moving to an online environment starting Mar 30, and continuing at least to April 10. More info at umd.edu/virusinfo.
Across the Pane: The Art of Djuna Barnes reintroduces and reexamines the visual production of the multi-talented American artist and author Djuna Barnes (1892-1982). Best known for her novel Nightwood (1936), Barnes had a diverse career as a writer, reporter, dramatist, illustrator, and painter. The exhibition explores Barnes's artistic networks and, by showcasing twenty-first century art that responds to her oeuvre, it emphasizes Barnes's ongoing relevance and impact. Contemporary works include archivally inspired prints, tarot cards, collages, and an experimental feature-length film, The Ladies Almanack, based on a book of the same name by Barnes from 1920s Paris. The title of the show, drawn from the text of a Barnes poem, speaks to the new and inevitably mediated experience of encountering this important and complicated modernist's work.
Accross the Pane is a highlight in a series of programming by the Gallery showcasing female artists in commemoration of the 100th anniversary of women's suffrage. Barnes had a unique relationship with the suffrage movement. As a young journalist, she had herself force-fed and reported on her experience: her "vision of a hundred women [suffragettes] in grim prison hospitals, bound and shrouded on tables just like this, held in the rough grip of callous warders." Scholars have noted the richness, and often grimness, of Barnes's textual imagery and its parallels in her visual art. Her style can be broadly divided into pre- and post-1920. The earlier period includes Aubrey Beardsley-esque works featuring sinuous lines and decadent affectations. Barnes spent much of the interwar period in Europe, and the later images drew inspiration from antiquated popular prints, injected with a bawdy sense of humor and modern flare.
Across the Pane is curated by Abby R. Eron, Department of Art History & Archaeology doctoral candidate and Curatorial Assistant. Material for this exhibtion has been generously loaned, in large part, by Special Collections and University Archives. Image rights courtesy of the Authors League Fund and St. Bride's Church, as joint executors of the Estate of Djuna Barnes. The exhibition is supported, in part, by the Dorothy and Nicholas Orem Exhibition Fund as well as a generous grant from the Maryland State Arts Council.
An exhibition preview and reception will be held on Wednesday, January 29, 2020, from 5-7pm.
The Ladies Almanack (86 min.), written and directed by Daviel Shy, is screening daily during Gallery hours, Monday - Friday, at 11:30am and 2:00pm, and by special request (contact aeron@umd.edu).
On view: January 30-April 3, 2020
Location: University of Maryland Art Gallery
Admission: Free