Maryland Art @ College Park 2014
June 25

to

August 2, 2014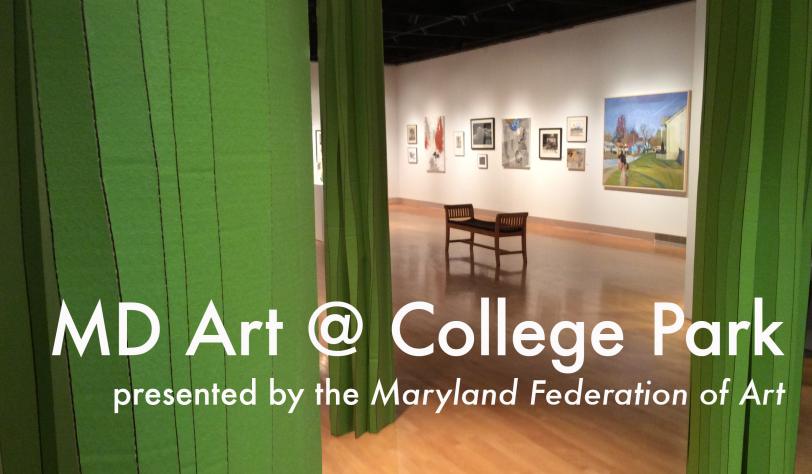 Open Wednesday through Friday, 11am - 4pm; Saturday, August 2, 1-4 pm.
Reception: July 11, 6-8 pm. Reception will be held at The Art Gallery, University of Maryland-College Park.
Juror: Ann Shafer, Associate Curator, Baltimore Museum of Art
Presented by the Maryland Federation of Art, celebrating over 50 years of local and national juried exhibitions. Please visit mdfedart.org to learn more about our open calls for entries.
Participating artists:
Nancy Abeles
Theresa Alo
Amelia Arria
Amy Barker-Wilson
C.L. Bigelow
Bruce Blum
William Boyd
Charles Butka
Jonah Calinawan
Robert Cantor
Sally Canzoneri
Carol Carey
Howard Clark
Lesa Cook
Ronnie Cramer
John Crider
Marie Crow
David Diaz
Carol Donahue
Patrice Drago
Paul Eckloff
Bradley Eisenhauer
Steve Ember
Edna Emmet
Anna Fine Foer
Magdalena Fitzsimmons
Michael Fleischhacker
Jenny Freestone
Kay Fuller
Jose Galindo
Judy Giuliani
Michael Gouker
Chad Grob
Lonnie Harkins
Artemis Herber
Gail Higginbotham
Allen Hirsh
Debra Howard
Teresa Jarzynski
Henry Jones
Elizabeth Kapsch
Kenneth Katzen
Elizabeth Kauffman
Laurin Keto
Jan Kirsh
Judith Kohn
Deborah Kommalan
Pamela Lawton
Anthony Lazorko
Khanh Le
Linda Lowery
Gordon Lyon
Maurice Margulies
Julie Maynard
Kass McGowan
Theresa McFadden
Donna McGee
September McGee
Carol Moore
Marcella Morgese
Bruce Muirhead
Richard Niewerth
Andrew Parris
William Peirce
Mark Peria
Dean Peterson
Angela Petruncio
Thien-Kim Pham
Sheila Pitt
Alex Porter
Jason Powell
Edmond Praybe III
Erin Raedeke
Marcy Ramsey
April Rimpo
Lynn Rybicki
Fran Saunders
Dick Schneier
Rima Schulkind
Wilford Scott
David Showalter
Martin Slater
Amanda Spaid
Kate Stillwell
Kourtney Stone
Murray Taylor
Michael Thorpe
Alex Tolstoy
Nancy Trippe
Andree Tullier
Gil Ugiansky
Marilyn Ugiansky
Sarah Wegner
Richard Weiblinger
Stan Wenocur
Jonathan West
Lin White
Ellen Winkler
Max-Karl Winkler
Cindy Winnick