METAXU: 2014 MFA Thesis Exhibition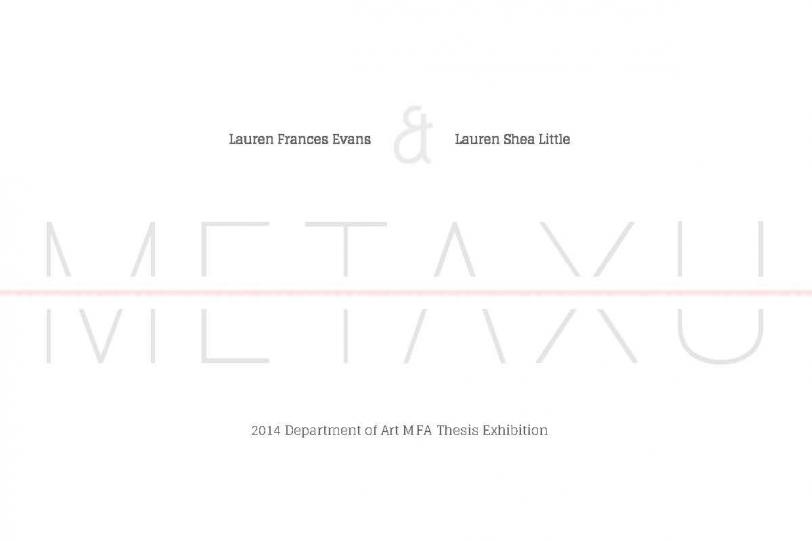 University of Maryland's The Art Gallery proudly presents an exhibition showcasing the work of two Master of Fine Arts candidates from the Department of Art Masters of Fine Arts program. The works exhibited by this year's 2014 MFA candidates Lauren Frances Evans and Lauren Shea Little represent the culmination of their studies and their artistic development during their time at the University of Maryland.
The Greek word metaxu is translated as the preposition between and was used by Plato to refer to the dynamic exchange of abstract ideas and the material world. Modern and contemporary philosophers have developed this word into a theory of intermediaries. Both Lauren Frances Evans and Lauren Shea Little adopt this philosophy as a way to consider ideas of embodiment and the relationships of interlocking betweens.
Evans and Little have shared a studio wall during their graduate school careers. This wall has become a place to hang works in progress, pin up quotes, and an intermediary through which they continue to exchange ideas. Their collaborative installation piece centrally located in the gallery, Point of Meeting, is a reification of their creative research and a nod to this shared experience.
For more information on the artists, please visit their websites: www.laurenfrancesevans.com, www.laurenshealittle.com. They have also created a blog for their exhibition, which we encourage you to visit here.